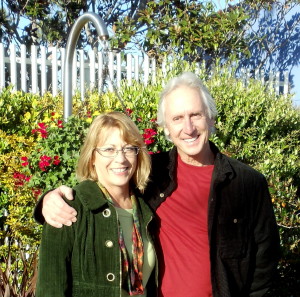 Founded in 1983, Visions in Glass, located at 22306 Dog Bar Road in rural Southern Nevada County, California, is operated by Tim and Carey Sweet. Visions in Glass specializes in etched glass, beveled glass, stained glass, and more. With more than 30 years of experience in the art glass industry, Tim and Carey use their talent, creativity and knowledge to enhance interior and exterior designs.
An expert glass cutter, sandcarver, and stained glass artisan, Tim began his journey with the craft in Sacramento, California in 1976 when many art glass studios flourished and there was a revival of interest in the age old medium. His early lamp and jewelry box projects built his competency with techniques, but soon after came requests for one of a kind pieces that included original designs created by Carey, a fine artist whose experience at that point was in drawing and oil painting. The collaboration worked out very well! With thousands of unique glass projects successfully completed as a team, the experience they offer their customers is truly a personal and creative approach. Set in the Oak and Pine of the Sierra Nevada foothills with nature abounding, this small studio has been the perfect place for art and family to flourish; for this we have great appreciation and gratitude.
We encourage you to explore the many examples of our custom glass work, and encourage you to contemplate how the beauty of art glass might improve your view!