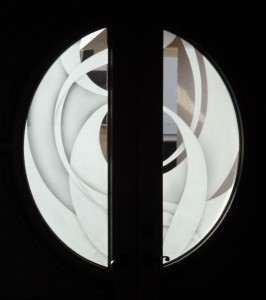 Etched glass is the broad term for the treatment of glass that produces a white frosted appearance, diffusing transmitted light and reducing glare. The method by which we etch glass is sandblasting (vs. acid or laser etching). Etching of glass affects the surface only and is suitable for tempered safety glass as well as art glass and plate glass. At the simplest form, a surface can be completely frosted white, while at it's most complex, intricate designs are possible. Virtually anything that can be drawn with a pencil can be etched!
The process of etching first starts with a to-scale drawing of the project. The glass is masked off with a rubber resist (stencil) material, an enlarged version of the original design is transferred onto the resist, and all details are cut by Exacto knife or stencil burner. The parts of the resist material that are removed are frosted/sandblasted. The resist that stays on the glass protects it from being sandblasted. We can etch designs in a "Positive" technique where the design is etched, or a "Negative" technique where the design is clear. In both methods we can apply "Stage-shading" , in which Leafy scroll baththe resist is removed in stages from the foreground to the background, creating a very dimensional appearance to the design.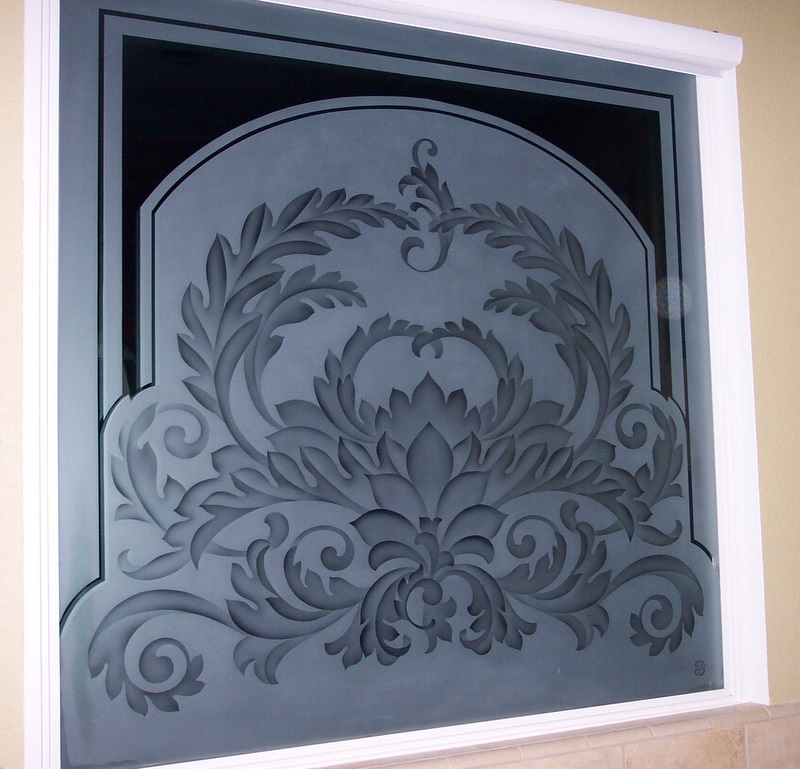 Sometimes it is appropriate to have stencils for certain designs created by computer, namely logos or text for signage or awards. Other instances might include having several pieces of art glass produced that need to be all the same. One might ask, why not have a computer cut out all of the stencils? Our answer is "flourish"! A hand cut stencil has the unique one of a kind quality that computer plotters just can't follow. Just as a painter has a style of stroke with his brush, so has the etcher with the line of a knife.